Sunday, Aug. 16, 2015
The original Prairie Sour Cherry summer event
(formerly
Bruno Cherry Festival
)

Sunday, Aug. 16, 2015
CHERRY SUNDAY EVENT INFO
---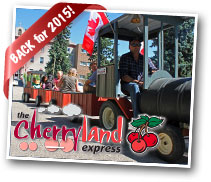 All Aboard the
Cherryland Express!
The Cherryland Express train is back for 2015!
---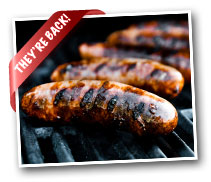 BBQ'd Bruno
Cherry Smokies
Made and smoked right here in Bruno, these delightful smokies are infused with a touch of sweet and tangy cherry goodness.
---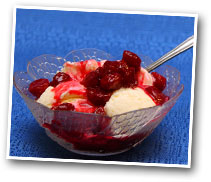 Signature Cherry Sundaes
feature
Bruno Cherry Sauce
and locally-crafted premium
Jerry's Artisan Mexican Vanilla Ice Cream
.
POSTED - August 17, 2015
Great day! Thanks for coming out!
(still cherries to U-Pick!)What an amazing day! A special "thank you" to all of YOU who came out to enjoy the day with us. We wouldn't have done it without you :)
And "thanks" to all the volunteers, community groups, vendors and entertainers.
Looking forward to seeing you all back in 2016. Bring a friend or 10!
PS: CHERRY U-PICK is still open until the crop is finished! Come on down and pick some sweet-n-tart-crimson-red-goodness!
POSTED - August 12, 2015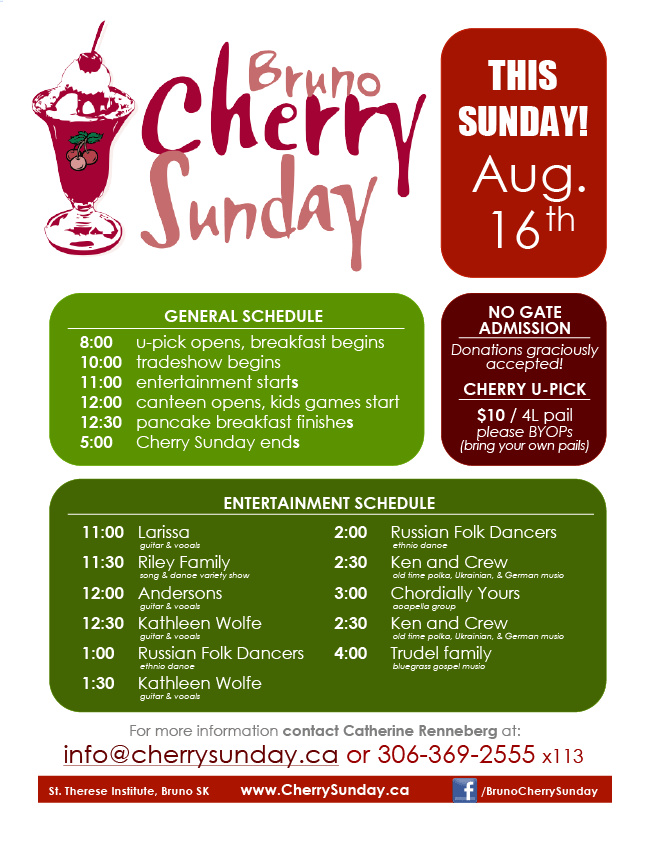 POSTED - August 4, 2015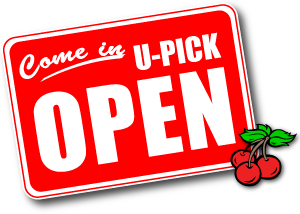 U-PICK ORCHARD IS OPEN!
Our U-Pick Orchard is open for the season!
M-F 9am - 9pm / $10 per 4L pail
Please BYOP (bring your own pails) if possible
.
Self-Serve picking outside of these hours is possible: instructions & map posted at the front of St. Therese Institute, and at orchard.
Call Catherine @ 306-369-2555 x113 or
306-369-7868 for more information.
POSTED - June 3, 2015
Date for 2015 Announced - AUGUST 16!
Sorry for the delay in announcing the date for this year's BRUNO CHERRY SUNDAY... but here it:
SUNDAY, AUGUST 16, 2015.
ENTERTAINERS, VENDORS, and VOLUNTEERS:
If you are interested in participating in this year's Bruno Cherry Sunday, please
contact Catherine Renneberg (2015 Coordinator)
.
U-PICK: We had a spotty, light, late frost in Bruno last week, but were hoping the the cherry blossoms & bees will have had enough time to interact beforehand to produce some marvelous cherries this year (last year, we lost the whole crop due to a poor spring).
---
*** CHERRY SUNDAY 2015 - INFO ***
When: Sunday, August 16, 2015, with activities running from times TBA.
Admission: by donation at the gate
Where: The grounds and orchard at St. Therese Institute of Faith and Mission, Bruno, SK, located at the North end of Main Street in Bruno, SK. (map)
IN CASE OF RAIN -- The event will move INSIDE the facility.
What: Join us for a day of celebrating community, friends and summer-time fun! The fun kicks-off with Pancake Breakfast & all-day Cherry U-Pick, and continues all afternoon with hot food canteen featuing Cherry Smokies (returning this year by popular request!), Cherry Sundaes (but of course!) & more, local entertainment, and fun for the whole family!


No Dogs, Lamas, Emus, Cows, Giraffes or other animals please (service dogs permitted).
Current Weather Conditions:
---
Facebook Photos:
---
Site last updated: June 30, 2016
SCHEDULE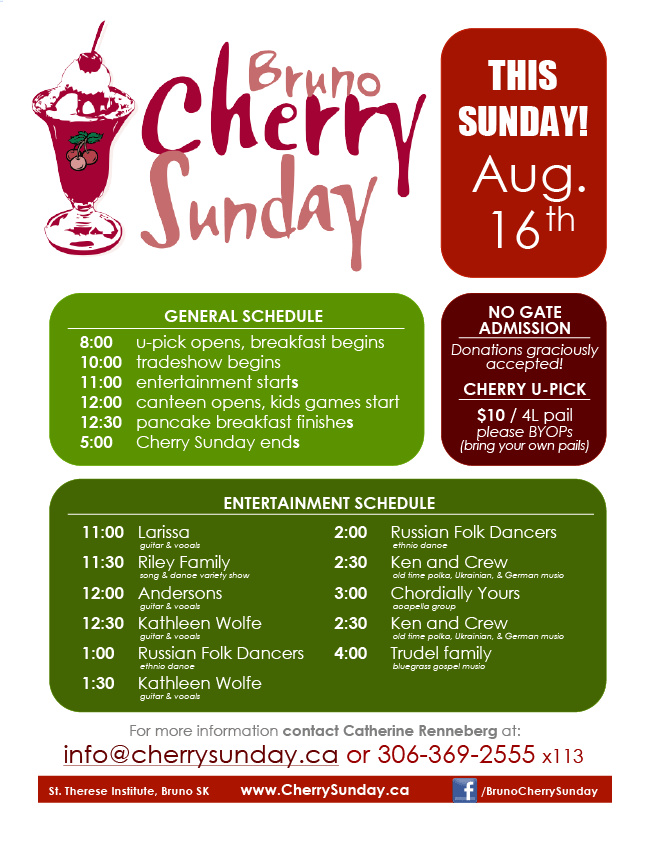 CHERRY U-PICK / PYO ORCHARD
The St. Therese Cherry Orchard is OPEN!

Our U-Pick Orchard is open for the season!
M-F 9am - 9pm / $10 per 4L pail
Please "BYOP" (see below*).
Self-Serve picking outside of these hours is possible: instructions & map posted at the front of St. Therese Institute, and at orchard. Call Catherine @ 306-369-2555 x113 or 306-369-7868 for more information.
Updates can be found on our Facebook Page ('like us' while you're there!).
*NOTE: Please BYOP (bring your own pails). We will have a limited supply of pails available for use at the orchard, but you can help us out by bringing your own! If using our pails, we will provide a bag for you to transfer your cherries into for taking home.
History of  Bruno's Cherry Festival / Cherry Sunday
The Bruno Cherry Sunday began in 2003 as a casual afternoon event with about 400 in attendance at the historic former St. Ursula's Academy and Convert in Bruno.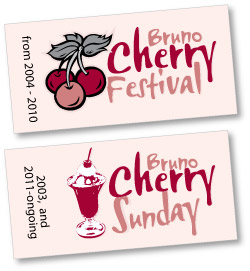 Under the direction of the Carlton Trail Ag Society, the event grew over the years to a full-weekend event dubbed the Bruno Cherry Festival, featuring various local-and-beyond bands, all-day food service including a pancake breakfast and turkey supper, trade show, children's programme and more, with attendance peaking in 2009 at about 3,000 people.
In 2011, organizers decided to bring the event back closer to its roots and reintroduced the festival as the original 1-afternoon Bruno Cherry Sunday, featuring local talent, cherry sundaes and speakers. In 2012, St. Therese Institute of Faith and Mission (who since 2007 has owned the facility where the festival is held) assumed the role of organizer and added back the pancake breakfast, morning and children's events, plus the opportunity to 'u-pick' the delicious sour cherries in the very orchards for which the festival was founded.
One of the main attributes of the festival has been the location; the beautiful historic grounds of the former Ursuline Convent in Bruno. The convent had been run as a catholic girls school for over 75 years. The sisters closed the facility and in 2000 the University of Saskatchewan agreed to a five-year lease of the buildings and property. It became known as the Bruno Ursuline Campus.  Dr. Bob Bors and others from the horticulture department at the University felt the grounds would be suitable for a demonstration orchard, particularly the dwarf sour cherry.  Dr. Bors and Rick Sawatzky, fruit breeders at the University of Saskatchewan, developed these hardy cherries specifically for Saskatchewan's harsh growing conditions.  'SK Carmine Jewel' was the first of the University's cherries released in 1999.  Five other cultivars were released in subsequent years: 'Crimson Passion,' 'Romeo,' 'Juliet,' 'Cupid,' and 'Valentine.'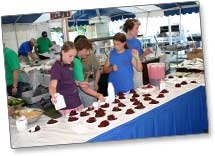 The success of the first Cherry Sunday provided the inspiration for the community to make the festival an annual event and The Carlton Trail Agricultural Society was formed.  One of the goals of the Ag. Society, in organizing the festival, was to promote and celebrate the new sour cherry varieties.  The festival also provided opportunities for commercial producers and backyard growers to highlight their products.  With a $15,000 grant from the Saskatchewan Association of Agricultural Societies and Exhibitors, planning for the 2004 Bruno Cherry Festival shifted into high gear.
Meanwhile, in 2003, the University ended their lease agreement. This forced the Sisters to make a decision – demolish the 60,000 square foot facility or continue to operate it as an Event Centre.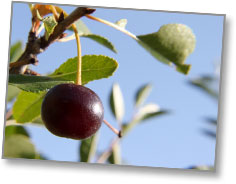 Under the leadership of Sister Maureen Maier, the Ursuline Sisters continued to operate the facility as the Prairie Ursuline Centre. During this time an additional 11,000 sour cherry trees were planted on a portion of the 65 acres of land on the Ursuline grounds.  In 2007, the property was sold to another Catholic group who founded St. Therese Institute of Faith and Mission in the facility. This was a good fit for the Sisters as it furthered their legacy of faith formation by passing the property on to a group that held similar religious and philosophical beliefs. It kept the property viable as an important physical and economic landmark in the community of Bruno.
ARCHIVES - Info from past years.
Websites from PAST YEARS:
note: websites from earlier years were not archived.
CONTACT US
Bruno Cherry Sunday
c/o St. Therese Institute
Box 310 Bruno, SK S0K 0S0


Cherry Sunday Coordinators
Catherine Renneberg:
(306)369-2555



The Bruno Cherry Sunday / Bruno Cherry Festival has been hosted on the St. Therese Institute (formerly Prairie Ursuline Centre) grounds since the event's inception. St. Therese Institute of Faith and Mission began operating the event directly in 2012, taking over the event managment from the Carlton Trail Ag Society.
Come and celebrate, and enjoy the sweet-and-tart sour cherry of the prairies!
---
For more information about the Cherry Sunday event, please contact:
St. Therese Institute
(306)369-2555, .
If you need to contact the Carlton Trail Ag Society (the founders and past operator of the Bruno Cherry Sunday / Bruno Cherry Festival) please contact us and we will get you in touch with them.
A big "thank you" to our Cherry Sunday 2015 - Platinum Sponsor: